StarLadder Dota 2 Volunteers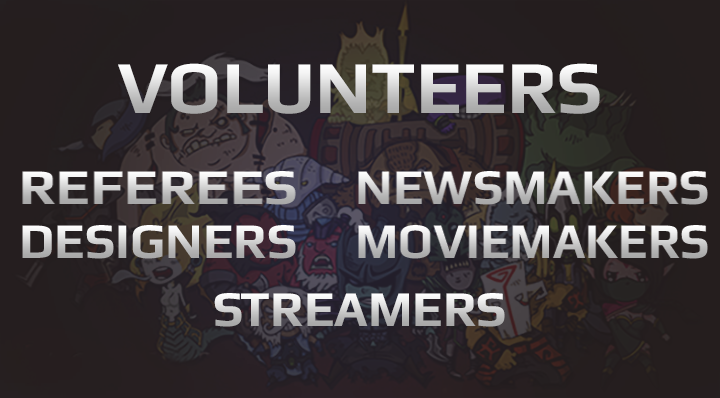 Do you like e-sports, but you can't succeed as a player? Want to get hands-on experience in video editing, journalism, refereeing or commenting? You can get all this by volunteering at StarLadder. Here you can meet professionals and learn from their experience in order to successfully apply earned skills in the future. The vast majority of people you see at the best Dota 2 tournaments were also volunteers once. Having shown persistence and love for the industry, they achieved success. And who knows, perhaps by showing the same qualities, you can succeed.
StarLadder calls for volunteers:

Streamer:
Commenting StarLadder tournaments;
Downloading videos on StarLadder YouTube channel and official website;
Giving brief comments before or after matches.
Editor:
Creating Dota 2 related articles;
Creating articles about StarLadder tournaments;
Creating texts for entertainment content;
Interviewing tournament participants and publishing their answers on our website;
Creating thematic articles;
Translating foreign-language news, materials.

Referee:
Controlling our tournaments: create tournaments and tournament grids, monitor the launch of matches;
Adding tournament participants and creating chatrooms for them;
Supporting: answer questions, disassemble protests;
Monitoring tournaments online.

Designer:
Creating entertaining content;
Creating graphics for StarLadder tournaments;
Creating thematic illustrations.
Moviemaker:
Editing finished materials (montage, effects, etc.);
Creating themed videos.
---
Want to try your hand?
Pay attention to the skills you need to have:
- Evening activity. 90% of e-sports events take place from 16:00 to 02:00 CET
- It is important that a person likes to play Dota 2 (including testing various chips, bugs)
- It is important to want to participate in several directions (for example, judging + writing news + writing posts for social networks)
- It is welcomed to be interested in other eSports disciplines, in particular, those which are featured at StarLadder
- It is important to be polite with participants of the website
How to apply:
В своей заявке Вам нужно указать:
1. Никнейм
2. Направление (стример, судья, ньюсмейкер и т.д.)
3. Имя и Фамилия, Страна, Город, Возраст
4. Skype, Discord
5. Владеете ли английским языком (и насколько хорошо).
6. Ссылки на ваши социальные сети и рабочие материалы (если Вы стример - ссылка на канал Twitch + канал YouTube + приложить запись матча на YouTube в качестве не ниже 720p).
7. Что Вы можете, умеете, имеются ли какие-то планы или задумки, уже готовый контент?
8. Сколько времени можете уделять в сутки, сколько дней в неделю?
9. Чем можете помочь уже в ближайшее время?
Комментарий организатора идеи:
- С волонтерства так или иначе начинали все. Большинство преуспевающих сейчас стримеров, судей, ньюсмейкеров, дизайнеров и т.д. в далеком прошлом пробовали себя на разных порталах волонтерами. Раньше этим занимались в удовольствие в качестве хобби. Сейчас многие из них работают в этой сфере и занимаются тем что им по-настоящему нравится.
- StarLadder, как и киберспорт в целом, развивается. Открываются новые регионы и дисциплины, новые турниры. Перспектива такова, что в любой момент могут понадобится новые люди. Чем шире проект и больше задач — тем, соответственно, более востребованы новые кадры на должностях.
- Мы дадим возможность попробовать себя в этой области каждому. Вы можете стать частью огромного проекта, прочувствовать на собственной шкуре, каково это: заниматься судейством или комментированием. Это не так просто, и далеко не каждый с этим справится.
- Если вы любите киберспорт и на что-то способны - не стесняйтесь, проявляйте свои навыки. Чем больше людей заинтересуется и, хотя бы по капле сможет помочь - тем интенсивнее будет развиваться любимая нам дисциплина в глобальном. Помните, что киберспортивные компании интересуются трудолюбивыми парнями и девушками, которым в первую очередь интересно посвящать себя этому делу.